Dear Skyline Users,
We were happy to have 100 attendees to the Panorama Public and Auto QC webinar. For anyone who would like to review what was presented, we've posted the supporting files.
Last week in Barcelona featured another stimulating week-long course on targeted proteomics. If you have not already attended one of these courses, your next opportunity is in the San Francisco Bay Area at The Buck Institute Targeted Proteomics Course.
We are very excited to announce our next webinar in the series, featuring two of the original instructors and organizers of these courses:
Webinar #12: Isotope Labeled Standards in Skyline
[registration closed]
When:
Tuesday, December 1, 8am (Pacific Time)
- plan for 1 hour presentation + 1/2 hour Q&A
- same content both sessions
Improve relative quantification using labelled standards
Perform absolute quantification using AQUA standards
Generate spectral libraries and enable confident identification of targets
Tips for working with synthetic peptides
This webinar will include an introduction from Brendan MacLean, Skyline Principal Developer, and presentations and tutorials from proteomic researchers Dr. Christina Ludwig, TU Munich, and Ariel Bensimon, ETH Zurich.
Join us, learn and help us to better meet your targeted proteomics research needs.
--Skyline Team
Presenters
Christina Ludwig (Proteomic Researcher)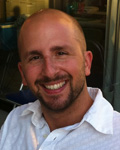 Ariel Bensimon (Proteomic Researcher)
Getting the Most Out of DDA Data
See video, presentation slides, and other files presented at the webinar.